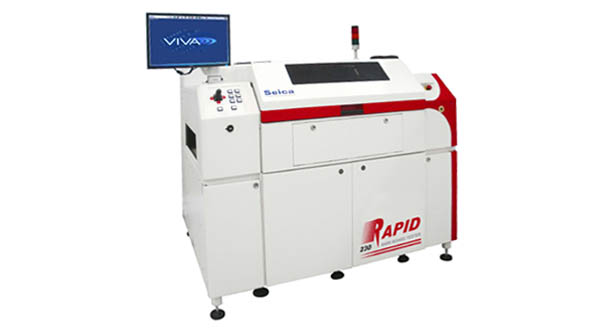 HORIZONTAL SISTEMS
To meet the specific requirements of a market, where most of ceramics have test points on one side, Seica has introduced two new testers with horizontal architecture. The Rapid line 250/230 testers are equipped with 4 probes, all placed on the top side, combine the speed and accuracy featuring all the line testers with the streamlined creation of a program suitable to test ceramics also with "embedded" components.
The Rapid 230 has a manual system to affix the PCB and is oriented to test prototypes and low-volume. With the pass-through conveyor, the Rapid 250 is compliant with the SMEMA standard, may be included in a fully-automated production line, to support high-volume productions.
The Rapid 250/230 can position all 4 probes on the same pad. Thanks to the third generation of linear guide technology the Rapid 250/230 are able to achieve very high speed with the maximum accuracy and measurement repeatability. The Rapid 250/230 are equipped with innovative new probe styles that can perform the same traditional tests such as 2wire and Kelvin test (4wire) for testing of the latest materials used in the PCB fabrication industry.
Features:
It tests:  ceramic substrates
4  independent flying probes
1 1 HD CCD Camera at Probe for Optical Alignment and Vision Tests (Top )
540mm x 610mm (21″ x 24″) test area (Rapid 250)
500 x 396 mm (19.69 X 15.59") test area (Rapid 230)
Manual – Rapid 230
Manual and Automatic – Rapid 250, Smema compliant, Conveyor Pass- through Left – Right
powerful brushless motors
Manuale and Automatic Board Loading