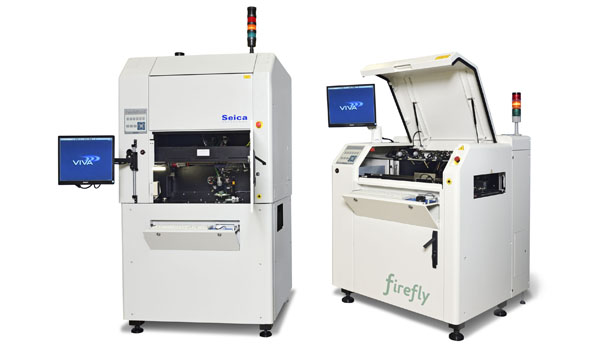 The advantages of laser
Supplying energy through a laser source allows point to point adjustment of the power needed for soldering; the lack of thermal inertia of the laser combined with real-time temperature readings, enable the dynamic correction of the thermal profile. The ability to apply all of the energy in a single point makes this technology applicable in situations where it is not possible to heat the whole board or where there are problems generated by reduced accessibility. Changing from "Lead" to "Lead-Free" soldering is simply a matter of changing a spool of solder wire, and the soldering process is clean, eliminating the costs and logistics of cleaning the boards and handling residual waste. Moreover, the power consumption of the Firefly is extremely low, compared to other types of technologies, and the system is ready to solder as soon as is switched on, since it requires no preheating.
The Firefly system is particularly suitable for soldering:
Through hole
Pin Grid Array
Odd form components
RF shieldings
Connectors
Features:
Solid state laser unit
Min. spot size: 0.3 mm
Soldering power closed loop control (through pyrometer)
Working area 406 x 508 mm
Seica VIVA® software
CAD input data import
Board coordinates autolearning (if no CAD data available)
Soldering profile autolearning function
The Firefly line includes dedicated solutions for specific requirements, such as an external pre-heating unit, fully controlled by the system software, and internal hot air nozzles on both sides of the boards. In addition, the systems are available in two configurations for top (Firefly T60) or bottom (Firefly B60) side soldering.