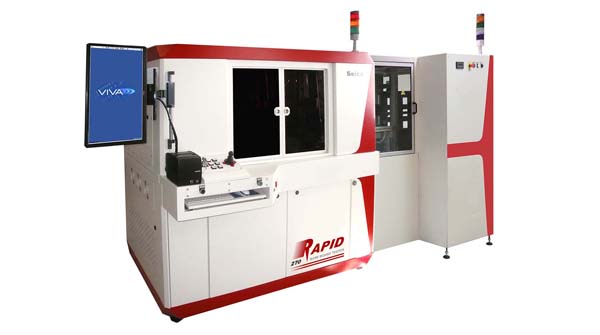 The Rapid 270 (automatic Bare Bord Tester) combines the versatility and reduced footprint of a vertical system with the automation featuring the testers with horizontal architecture.
Through the Rapid 270 vertical system, unique in the galaxy of Flying probers for PCBs, Seica answers the most demanding requirements in terms of versatility and ease of use, combined with high-performance standards. The system is provided with 8 completely independent measurement probes allowing high test speed.
Four (4) probes on each side allow the most accurate measurements on both sides of the PCB. All types of testing methods are available, such as standard electrical PCB tests, Kelvin test, as well as testing of active and passive embedded components.
Features:
Tests: inner layers, ceramic substrates, flexible circuit boards and printed circuit boards
8 (Rapid 260) independent flying probes
2 CCD cameras for top/bottom fiducial markers
540mm x 610mm (21″ x 24″) test area
High voltage, high impedance isolation tests
Vacuum table as an option
Precise probing on small pads and fine pitch
Very high speed testing
Repair station software embedded
Soft touch capabilities
In-circuit tests of embedded components
Manuale and Automatic Board Loading