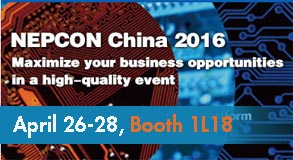 In the ramp light : Industry 4.0
Strambino, Italy, April 2016 — The theme for Seica at Nepcon Shanhgai  this year will be the Pilot line and the traditional Compact line of bed of nails and functional testers integrated with Industry 4.0 concept. The Compact and Pilot lines have all of the capabilities needed for implementation in any Factory 4.0 scenario, providing the possibility to plug in any proprietary or third party information system to achieve the desired goals.
The Pilot4D line of flying probe test systems offers a vast series of solutions that are designed to optimize the "time" dimension while maintaining the highest level of test quality. All of the solutions in the Pilot4D line are equipped with excellent new performances for faster testing and higher fault coverage on even the most technologically advanced and complex boards of the latest generation electronic products and devices.
Pilot4DV8 is the prober ready for all technologies and all types of electrical, optical and thermal tests, able to probe on the smallest SMD chip like the 03015 metric, and suitable for Prototyping, Production, Repair and Reverse Engineering of electronic boards. With 8 electrical flying probes and other 8 additional resources to test the UUT, all included in a vertical, very compact and robust architecture, making the Pilot4D V8 unique in its genre. Its multiple flying probes can also execute parallel test on two UUTs at the same time, effectively doubling test capacity with respect to a 4-probe system. The mobile power probes represent another important innovation, which enables the power-up of the UUT functional test without requiring any additional, fixed cables. The Pilot4D V8 is equipped with Flyscan, the true integration between ATE Flying Probes and Boundary Scan tester.