Following the boost to energy saving and the improved design technology, the LED type components replaced almost any other light source. LED modules can be found in any market sector, starting from Automotive, bringing production levels of this type of boards to unconceivable amounts.
Typically we talk about simple boards from a circuitry point of view, but requiring an accurate testing. Approximations and compromises can be made, however, the only way to ensure the quality of the product is the functional testing, along with the characterization of each LED through dedicated sensors.
For productions of consistent codes, assembled in large volumes, it is possible to implement dedicated but definitely expensive test fixtures,. In all the other instances, the flying probe platform comes in, providing to date a test speed which meets the pace of the production output.
The flying probers of the PILOT line by SEICA can be equipped with the "Led Sensor" option. This is a FEASA sensor which can be installed on one or more heads, and can test the featuring settings of a Led: color, intensity and saturation. FEASA is a renowned manufacturer of sensors which are globally acknowledged as the standard for Led characterization.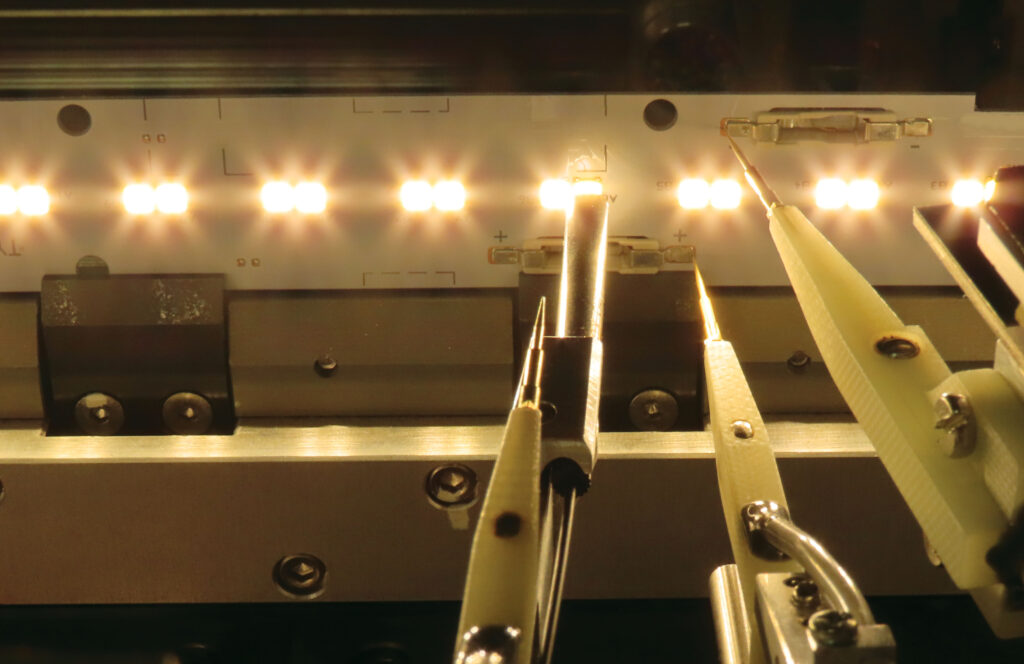 IMPLEMENTATION:
Need to test Led board panels up to 1500 mm length
The system can be managed both in line or as a stand-alone test station.
A flying prober with 'LED SENSOR' option can be perfectly integrated into a high-volume automatic production line.
Configuration with 4 electrical probes and two FEASA sensors
SPLIT TEST available for boards exceeding 600 mm length.
External automatic conveyors to support the D.U.T. (both incoming and outgoing)
Timely verification of positioning, color, saturation and intensity parameters for each Led
Power pads required on the whole board
Power supplied via Flying probes

BENEFITS:
Effective testing of the board and characterization of the main components
Possibility of a stable and reliable inspection downstream of the production
Fast and reliable programming, possibility of ICT test on the circuitry
The SPLIT TEST function allows to test the panel by steps, having it conveyed consistently with the test execution
Streamlined handling of relevant size panels
Improved quality of the finished product
Consistent quality control of the incoming components